Sydney
All Time Top 100 returns, back in full force in a new pub, in a new street, in a new city, in a new country! Bring it on!
Put the 30th June in the diary and see you at The Cricketers Arms Hotel "a bloody good pub!"
We have none other than DJ Tony Rebel playing as many of his, you guessed it 'All Time Top 100' tunes, as he can squeeze into the night….
"From a 90's residency at Carl Cox's night in Brighton to playing the last Big Day Out in Sydney and all points in between, DJ Tony Rebel loves playing music. And talking about music. And dancing to music. And collecting music. And just generally boring everybody to tears always going on about fucking music. A Britpop kid, and Hip Hop head, a Rave monkey, a Soul boy, A Jungle don…Tony Rebel has gone through multiple guises and picked up a few stone cold classics along the way. And is properly stoked to now get to play his favourite records in his favourite pub in Sydney with the legendary ATT100. Expect anything from Orbital to Otis Redding, Mos Def to Morrissey and everything in between."
See you there 19:30 sharp, did we mention it was FREE!!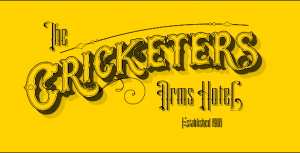 106 Fitzroy Street
Surry Hills, NSW,
AUSTRALIA, 2010.
Proceedings will commence at 7.30 for an 8 o'clock start.